A major advantage of the shaftless spiral is its ability to transport sticky, thread-like and irregular material without getting bogged down or blocked.
The shaftless spiral has a much higher capacity than shaft spirals. Spirals are used by paper mills, recycling plants, incineration plants, saw mills, pellet mills, sewage plants and abattoirs.
Typical materials handled are rejects from pulpers, wood chips, sawdust, wood shavings, pellets, sludge, cleaning, waste, chemicals, plastic granules, powders...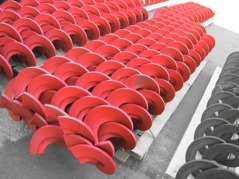 PST AB | The specialist in Shaftless Screw Conveyor | Ramsågsgatan 8, 385 34 Torsås, Sweden| +46 (0)486 456 50