The PST Spiral Press is an efficient, simple and reliable press for dewatering. It has dual function by both transporting and dewatering by a pressure mounted unit in the outlet end of a normal spiral conveyor, which requires minimal space.
The dry substance content following pressing depends on the material fed in, but up to 50% can be achieved.

Examples of common materials that are pressed fibers in paper mills, grating's in sewage treatment plants, waste from abattoirs and commercial kitchens etc.

​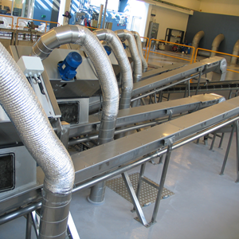 PST AB | The specialist in Shaftless Screw Conveyor | Ramsågsgatan 8, 385 34 Torsås, Sweden | +46 (0)486 456 50